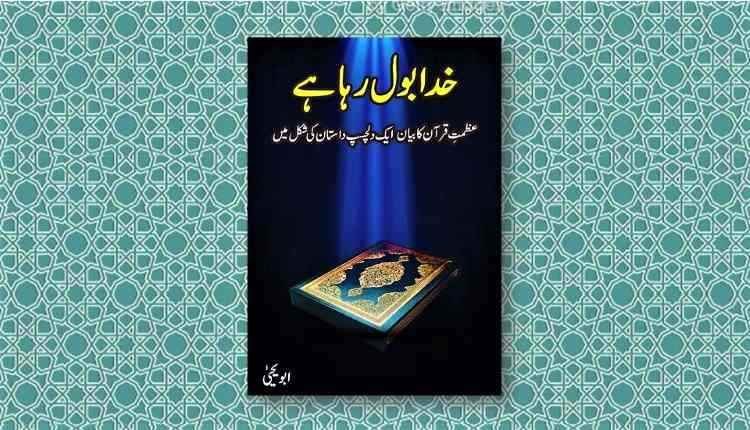 About "Khuda Bol Raha Hai" by Abu Yahya
"Khuda Bol Raha Hai" by Abu Yahya is the description of the grandeur of the Holy Quran in a unique way.
Its a new turn in the story which began with "Jab Zindagi Shuru Hogi".
Meeting of Abdullah with his parents in the Paradise.
Brief biography of an honorable man whose life has been ruined.
A story of an adolescent girl who wanted to make this world as her paradise.
The efficacy of the Holy Quran which changed lives of the both.
Unique and novel way to understand and teach the Quranic Invitation.
It's a captivating story which you'll definitely like to read till end.
Get "Khuda Bol Raha Hai" by Abu Yahya
You can order paperback copy of "Khuda Bol Raha Hai" for home delivery by clicking on the 'Order Printed Book' button below.
If you would like to download an electronic copy of "Khuda Bol Raha Hai", please use the button "Download Pdf" at the bottom of the page.
Book is also available in mp3 audio format. To download it or listen online, click on "Listen Audiobook" button.
"Khuda Bol Raha Hai" is also available on our YouTube channel. To listen the book on YouTube, click "Listen on YouTube" button.
More about "Khuda Bol Raha Hai" by Abu Yahya
The Holy Quran is the manifestation of the Merciful God' s attribute of speech; each and every word is chosen by the Merciful God Himself; which the angel Jibrael the trust worthy found it from in the Luh – Mahfooz ( The Saved Panel) and revealed the Islam honestly to the heart of the Friend( Qalb e Habib ﷺ) which neither the Djinns from the Satan or the Humans can dare touch it; nor have been able to change or distort it; the false hood can neither enter in it from the front or the behind; This is that guidance brought about by the Prophet Muhammad  ﷺ which will suffice for the guidance and instruction of the humanity till the Day of Judgment acting a substitute for the Messengers.
This was the same sentiment of the grandeur and importance of the Holy Quran which author has placed before the readers after reducing it to the writing in "Khuda Bol Raha Hai". The story deals with the life of paradise starting with Abu Yahya's first novel "Jab Zindigi Shru Hogi".
The main character of the story is Abdullah and he has reached the Maidan – e – Hashar (the place where the accountability of the life we spent herein will start); but with his entrance into the Paradise two more characters have been introduced and the original message has been conveyed through their story.
The story starts with the life in the Paradise. Initially the story moves at a slower pace, but as soon as the main story begins the incidents pick the pace and keep the readers engaged till end.